Unflavored Protein Powder
Protein Powder You Will Love
Crafted for protein shakes, protein smoothies, and fitness enthusiasts and ideal for better fitness and enhancing muscle-building in later years.
A selection of no-sugar protein powder including unflavored protein powder, Collagen Powder, and Fish Protein to supplement your protein intake needs. As one of the top clean whey protein suppliers in California, we're committed to providing you with the best whey protein on the San Francisco Bay Area market today.
Our Whey Protein Isolate powder is keto-friendly and has multiple certifications including Kosher, Protein Powder, Halal and SQF-certified certification for quality. Also, visit the Fast Protein page on Amazon.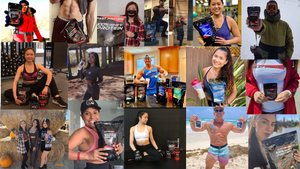 Where Your Contribution Goes
Fast Protein is a philanthropic supporter of Fair Trade USA. 10% of our gross sales are donated to Fair Trade Certified located in Oakland, CA to help farmers in marginalized communities around the world. 
Fast Protein Community
Find Inspiration right at your fingertips! Grow with a community of fellow fitness enthusiasts